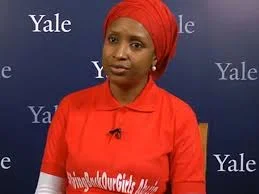 The founder of Bring Back Our Girls, Hadiza Bala Usman has been appointed the Managing Director of the Nigerian Ports Authority
Bring Back Our Girls campaigned was founded by Hadiza in a bid to push the Nigerian Government to rescue the abducted Chibok girls but the campaign has not achieved its objectives as their activities have since come to a halt since the election of President Muhhamadu Buhari. Many Nigerians believe the campaign was a tool to discredit the government of former President Goodluck Jonathan and from this appointment, it further shows that the campaign was actually setup to help the All Progressives Congress come to help.
The question many Nigerians are asking is what would be the fate of the campaign since the abducted Chibok girls are still missing, members of the group are no longer campaigning on a daily basis as before and the leaders of the group are getting appointments from the government as compensation for their role in the 2015 general election that brought Buhari into power.
Also appointed to NPA are: Mohammed Bello-Koko ED (Finance), Prof. Idris Abubakar ED (Engineering), Dr. Sekonte Davies ED (Marine Operations).